Czech Pro Series #1 : FINAL
[1] Gregory Gaultier (Fra) 3-0 [5] Jakub Solnicky (Cze)  11-2, 11-6, 11-3 (23m)
Greg Gaultier claimed his 44th PSA title today in his hometown Prague at Czech Pro Series #I, on the same court he won his second PSA event more than 19 years ago, in December 2001.
His opponent Jakub Solnický, playing his first PSA final, played patiently in the first game and was able to stay in the rallies with Greg. However he struggled to put Greg under pressure and Greg was the one winning the points.
In the second rallies got shorter. Both players attacked more and thanks to few Greg´s mistakes Jakub was able to get the score to 6/6. But next 5 points went again to Greg to get the 2/0 lead. In the third Jakub started to struggle with Greg´s constant high pace and Greg won it quickly in just 5 minutes.
Greg:
Happy to win another tournament. Thankful to Czech squash association for putting this event in these difficult times. Good to get this playing opportunity to get some more matches in my legs.

I felt Jakub played better than last time we played. I could feel he could keep the pace better than last time. Thanks to Squashclub Strahov for hosting the event.

Looking forward to play more events when things get better soon hopefully.

Jakub:
I am satisfied with my performance in my first final. I think I played my best squash in the second game where I was able to keep with Greg to 6/6. I played some good winners there.

The result should help me to move up in the rankings to my best ever position. Reaching the final is a great motivation for me to keep working. I hope there will be more tournaments to play soon.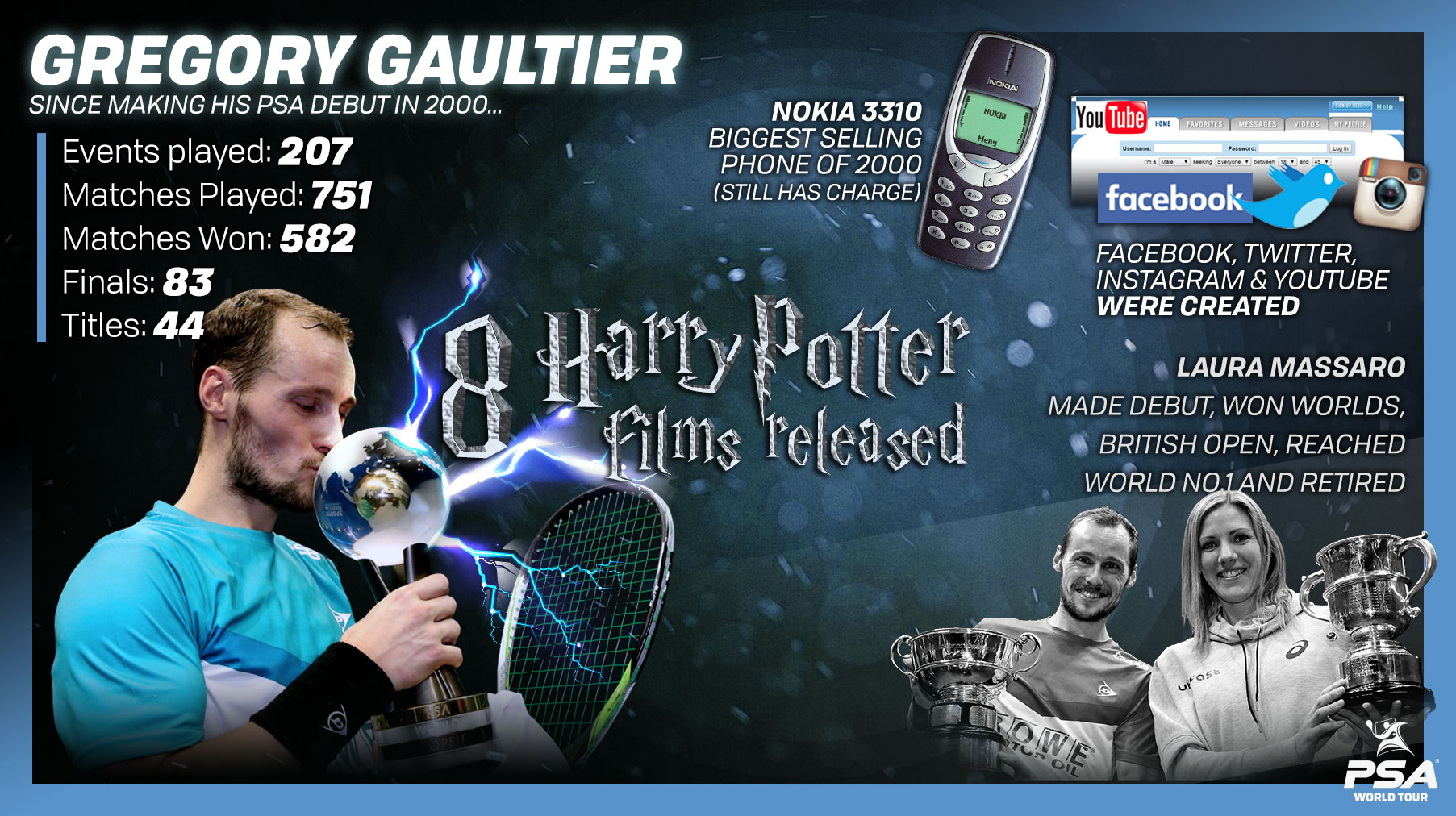 Semis : Gaultier to face Solnicky in the final
Tomas Forter reports
In the first match Rob Downer was able to stay in the rallies with Greg Gaultier at the beginning. At 3/3 he even won a marathon rally to go 4/3 up. It took a lot out of him though and Greg raced to 10/4 quickly after that and got the game on second gameball.
In the second he got to 5/0 quickly and comfortably got the game 11/3 by playing high pace rallies. In the third the rallies got shorter. Greg went more for some of his trademark low kills and Rob hit some nice winners as well.
"I am feeling good, I am moving well, I am hitting the corners well, I am happy with my squash. I am very thankful to be able to play another tournament in these difficult times. All the players who live here including the foreign residents are very happy they can compete here this week.

Let´s hope there will be more playing opportunities in the near future. I can feel Rob is improving. It was the third time we played over the last few months. Today his game was more structured. There is still a lot of room for improvement but this is why he is here in Prague training with us. He is very disciplined and positive. Hopefully he will be rewarded for all the work soon."
The second match presented a great opportunity to reach the final for both Ondrej Uherka and Jakub Solnicky. First game started with some long rallies but Jakub was always the one in front of his oponent and dictating the rallies. He got the first 11/5.
Second game was played the same way and brought the same result 11/5. Jakub got a quick 6/2 lead in the third and it looked like it might be over soon but Ondrej pushed hard and got back at 7/7. The end of the game was very close. 8/8, 9/9.
Tin on backhand volley drop from Ondrej gave Jakub matchball. Ondrej saved it with tight backhand drop glued to the wall. Jakub went for an easy cross court nick winner and missed. 11/10 gameball Ondrej. Another tin from Jakub´s backhand drop and Ondrej deservedly got the game.
It looked like Jakub saw the finish line a bit too early and lost concentration. He got it back in the fourth and got to 6/1 again. This time he did not make the same mistake as in the previous game. Kept putting Ondrej under pressure and won 11/1 to reach his first PSA final.
"I felt well from the beginning of the match. I controlled the pace of the game. Apart from the loss of concentration in the third where I led 6/2 I had the match under my control. I am glad the training we put in recently pays off. It is a shame there are not many tournaments in sight now. I am looking forward to tomorrow´s final and I am not going to give it to Greg easily."
Day ONE : Bottom half upsets on day one in Prague
Tomas Forter reports
The pirst round put seeded players mostly against young Czech players. Experience prevailed against youth and all the seeds made it to the quarterfinals without any problems.
The Quarters however brought some match ups which promised much tougher battles. Top seed and favourite Greg Gaultier dispatched top Czech junior Marek Panacek easily but it was a great experience for youngster who made some good progress recently.
Rob Downer and David Zeman played a match of two training partners who can hardly surprise each other. David got the leads at the beginning of all games but Rob usually played better the crucial points towards the end of games to win 3/1 in longest match of the tournament so far in 59 minutes.
Martin Švec was playing his first event after suffering from Covid-19 much longer time than most. He had troubles coming back after the illness and it took him 2 months before he was able to train again. He met his long time team mate Ondřej Uherka. Martin played some mature squash in first two games and got to 2/0 lead. However Ondrej kept the rallies going in the third and fourth and got them both easily to equalize. The fifth was close to 5/5 but then Ondrej pulled away and won 11/7.
The final match was between two top Czech players (on form) of the last few months. Second seed Daniel Mekbib met fifth seed Jakub Solnický. Daniel also had Covid-19 recently and soon it became obvious he is not in match shape yet. Jakub got the first easily and although Daniel tried hard in the second and third his lack of match fitness was evident.
Tomorrow's semis will be played between two seeded foreigners and two Czech players which means there will be a home interest in Friday´s final as well.