World Games 2022 : FINALS
FINALS:
[1] Tinne Gilis (Bel) 3-0 [5/8] Lucy Beecroft (Gbr)    11-9, 11-7, 11-6 (30m)
[3/4] Victor Crouin (Fra) 3-2 [1] Gregoire Marche (Fra)  11-9, 12-14, 10-12, 11-3, 11-2 (66m)
3rd/4th Bronze matches
Coline Aumard (Fra) 3-2 Haley Mendez (Usa)   11-6, 5-11, 11-9, 6-11, 11-8 (34m)
Miguel Rodriguez (Col) 3-1 Dimitri Steinmann (Sui)   11-5, 4-11, 12-10, 13-11 (64m)
Finals : It's Gold for Gilis and Crouin
Tinne Gilis and Victor Crouin are the 2022 World Games champions after victories in the finals in Birmingham, Alabama.
Top seeded Belgian Gilis completed a full set of straight-game wins as she beat Great Britain's Lucy Beecroft in straight games, while Crouin beat top seed Greg Marche in a four-game all-French men's final.
"I'm so happy, said Crouin. "My goal was to win a medal at this event and I return home with the gold! To beat Miguel and Greg back to back is huge for me. I did my best to recover from yesterday's brutal semi-final but still had a rough night due to soreness. So, to win today means a lot to me!
"Winning the gold is a huge achievement for my country and myself and I am proud to have fought all the way until the end. So happy!"
Colombia's Miguel Rodriguez and France's Coline Aumard won the bronze medal matcher.
Semis : All-French final in Alabama
The 2022 Men's World Games champion will be French, after top seed Greg Marche and 3/4 seed Victor Crouin won their semi-finals in Birmingham, Alabama. Marche took out Swiss Dimitri Steinmann in straight games, while Crouin upset secend seeded Colombian Miguel Rodriguez in four games.
The wome's final will see top seeded Belgian Tinne Gilis meet Great Britain's Lucy Beecroft. Gilis continued her impressive form as she beat 3/4 seed Coline Aumard, while Beecroft ernded home hopes of a gold medal as she beat fellow 5/8 seed Haley Mendez, both in straight games.
Quarters : Mendez downs second seed Alves
There were some , notable upsets as the quarter-finals too place in Alabama, with USA's Haley Mendez claiming the biggest scalp as she beat France's second seed Melissa Alves in three games. She'll meet Great Britain's Lucy Beecroft for a place in the final, while top seed Tinne Gilis faces Coline Aumard.
In the men's quarters Switzerland's Dimitri Steinmann produced the only upset as he beat 3/4 seed Raphael Kandra, setting up a semi against top seed Greg Marche. Second seed Miguel Rodriguez beat Baptitste Masotti and now faces another Frenchman in Victor Crouin in the semis.
Day TWO : Tycova run continues
Germany's Katerina Tycova produced a second seeding upset as she beat Australia's Alex Haydon to reach the quarter-finals in Birmingham. The biggest seeding upsets came as home favourite Marina Stefanoni and Germany's Saskia Beinhard both beat 5/8 seeds to progress.
The only upset in the men's draw saw Canadian David Baillargeon take out 5/8 seed Faraz Khan in three games, while France's Baptiste Masotti beat defending champion Simon Rosner, also in three.
The quickest win of the was women's top seed Tinne Gilis' 12 minute win over Nikky Todd.
Gilis said: "I'm obviously very happy to win today. I find the first match is always the hardest, especially when it's best of three, as there's more pressure and you have to make sure you start well. I knew this was going to be an enjoyable match with Nikki, it always is. I wish I could be so happy on court all the time! But I'm definitely happy about today's performance and looking forward to the next one!"
Opening Ceremony & Squash Photos : (very few squash ones yet)
This slideshow requires JavaScript.
Day ONE : Tycova shocks Serme
Germany's Katerina Tycova defeated Czech 3/4 seed Anna Serme as the squash competition got underway at The World Games 2022 in Birmingham, Alabama.
"It's my first World Games and I'm super happy I made a good start into the tournament. Anna played very well and after she won the first set I really had to fight back into the game. Luckily I managed to get the right mindset for this comeback. I'm looking forward to tomorrow," Tycova said.
Earlier in the day Canada's former Nikki Todd held off a spirited challenge from Ecuador's Maria Moya to take a 2-1 victory and set up a second round clash with top seed Tinne Gilis, who received a first round bye.
Afterwards, Todd said: "I'm really happy to get through today! Maria is a strong player and she came out firing in the second so I had to use all my old tricks in the third to get the win. I'm looking forward to my match tomorrow against the No.1 seed, who I don't think I have ever actually played, but it should be fun! Hopefully I can make Canada proud!"
In the men's draw, defending champion Simon Rösner overcame Hungarian Balázs Farkas in a tight encounter. Rösner, who beat this year's top seed Grégoire Marche in the 2017 final in Poland, lost the first game 11-6, but was able to recover to dig out the victory with an 11-6 win in the second and an 11-9 in the third.
For the home fans, there will be four players to cheer for today, after victories for Marina Stefanoni and Haley Mendez in the women's draw and Faraz Khan and Shahjahan Khan in the men's draw.
Reacting after his win over Spain's Sergio Garcia Khan said: "I appreciated having Chris Gordon and Ong Beng Hee in the corner today, as their experience counts for a lot and they gave me great advice before the match and between the games.
"I know Sergio from my time and Spain, and I think we play a similar style of squash and I knew it was going to be a physical match with long rallies so I just tried to prepare for that mentally and enjoyed a clean match with him. I wish him good luck for next season."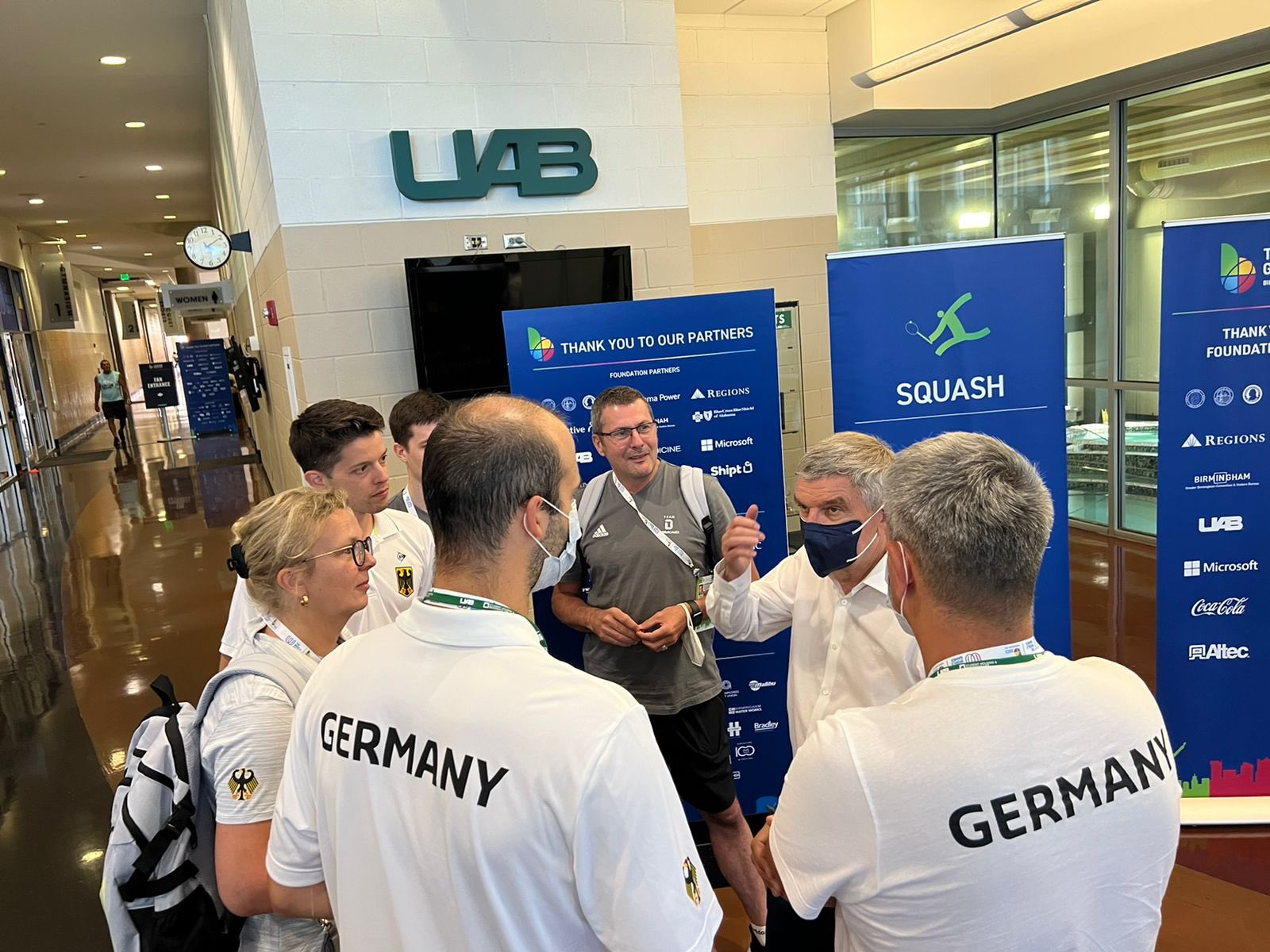 World Games History