The transformation of the squash centre at the US University of Pennsylvania into a state-of-the-art 12-court facility which is the envy of the Ivy League has signalled a new era for ASB as the world's leading squash court manufacture moves into its sixth decade of operation.
It was back in 1997 that the German company was first selected to install 10 squash courts at the University's Ringe Squash Center in Philadelphia. A couple of years ago – by now with successful men's and women's teams – Penn felt the need to improve their facility and include show glass courts for a better viewer AND user experience.
The major question remained: build a new squash centre or make use of the existing facility? After thorough consideration, a compromise was found in keeping the building shell but essentially re-modelling the entire interior. The new set-up consists of not 10, but 12 squash courts, including 2 state-of-the-art ASB ShowGlassCourts, on a total of three levels.
With 3 ASB System100 courts on the upper level, 3 ASB System100 courts on the lower level, plus 4 ASB System100 courts and 2 ASB ShowGlassCourts on the main level, the installation was a highly complex operation. Due to the tight space inside the building and the various levels, the delivery had to be split up in several containers on an almost just-in-time delivery pattern to avoid any waiting time for the various trades working inside the building.
"The University of Pennsylvania Squash Centre is situated between two historic American athletic venues," said the University's Director of Squash Jack Wyant. "Franklin Field (site of the Penn Relays) and the Palestra (home of Big Five basketball, Penn wrestling and volleyball).
"The $19 million squash court renovation transformed a tired, dated facility into a modern, sleek, highly functional one capable of hosting national and international championships.
"The Penn Squash Center features lots of natural light, team rooms, offices, 12 courts including two 4-wall glass exhibition courts, a stunning entrance and views of Center City Philadelphia. It services the needs of the Penn varsity teams, local, campus recreational play and will host three major US junior and intercollegiate tournaments in its first six months of existence."
The magnitude, significance and ultimately the success of the project has led ASB to reposition and refine its modus operandi going forward.
"We are at the beginning of 2020. We have our resolutions, determinations and goals," says Zdeněk Klos, Senior CEO, ASB SQUASH. "Our main goal is to maintain and extend our position as the leader in quality and volume within the squash court industry.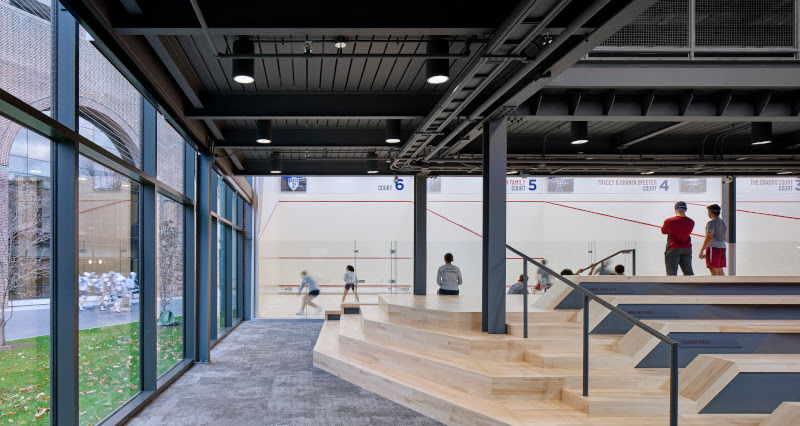 "We will reach this goal by pursuing and proactively improving four principles:
"Firstly, innovation that matters: We are dedicated to further understanding the needs of our clients and our client's clients. We will provide innovation that matters deeply, not something that is simply new.
"Secondly, we seek to understand before we create: understanding needs and motivations is a key priority in shaping the future relations with clients and with each other. Based on our wealth of knowledge in squash court manufacturing and the creative processes deeply embedded in ASB's day to day environment, we develop custom tailored solutions, with our clients, for each and every project.
"Thirdly, active and honest involvement: Once engaged, we aim to become part of the client's team in realising a joint vision rather than a supplier waiting to hear from its client, we shape the process together, proactively.
"Finally, being a real team player," concluded Klos. "Contractual arrangements and transparency are the basis of our day to day business. However, even more so is spoken word and executed collaboration. Providing reliability and trustworthiness is a cornerstone of ASB's philosophy, not only in performing according to a contract, but also ensuring 100% satisfaction in executing agreed terms and reacting to change along the way."
Future ASB projects include the US Squash National Training Centre, also in Philadelphia, where two ASB ShowGlassCourts will be sited, together with three ASB System100 courts, with moveable walls enabling easy conversion to two international doubles courts.
Furthermore, ASB is masterminding the construction of the world's first bank of four TPoint courts. Installation of this unique high-end outdoor court concept (see images below) is currently underway in Tel Aviv, Israel.