Squash is celebrating the International Olympic Committee's (IOC) decision to officially select squash for inclusion in the LA28 Olympic Games sports programme.
WSF, US Squash and PSA extend their gratitude to the Organising Committee of the LA28 Olympic Games and the IOC for recognising the value that squash brings to the Olympic Games.
Squash's inclusion in the LA28 Olympic Games will help the IOC and LA28 advance its mission to "deliver an unparalleled experience" for athletes, fans, and the entire sports community. Squash will also leave a positive and lasting legacy in the Los Angeles community where youth in the region will have the access and opportunity to play and compete in the sport for generations to come.
This momentous decision provides squash's world-class athletes the opportunity to compete on the biggest sporting stage in the world, with two medal events – men's and women's singles competitions.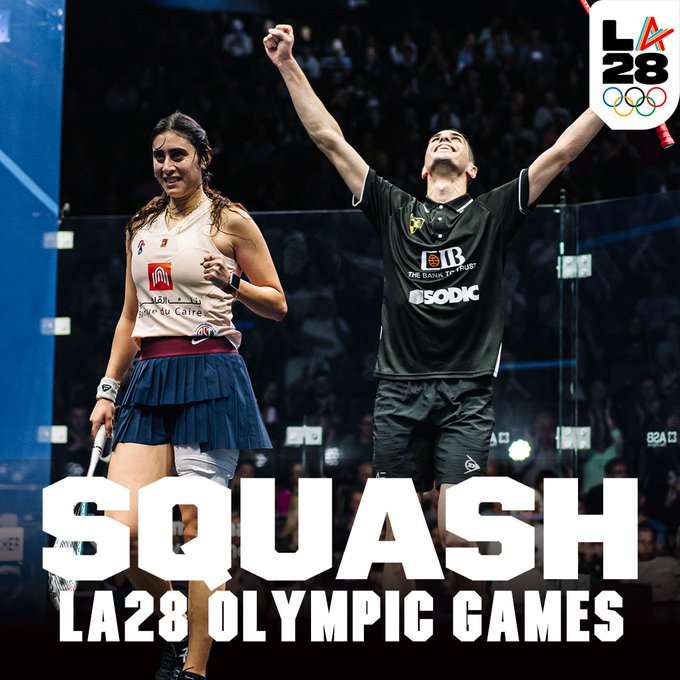 WSF President Zena Wooldridge said:
"On behalf of the entire global squash community, I would like to express my immense delight at squash's inclusion in the LA28 Olympic Games. Squash is an amazingly dynamic, diverse and demanding sport that is perfectly suited for the Olympic Games. Everyone involved in our sport is elated to be LA28 bound and we look forward to being part of an unparalleled Olympic Games experience."
US Squash Chief Executive Kevin Klipstein said:
"The inclusion of squash in the LA28 Olympic Games is a significant breakthrough for the sport. Being part of the Olympic Games has been a long-held goal for the squash community, and inclusion will serve as a catalyst to increase awareness of what is already a major participatory sport globally with a long and diverse history. Access to the sport and the opportunities it provides will continue to increase for people of all ages, abilities, and backgrounds. We look forward to supporting our Team USA and the squash community in the lead up to – and beyond – the Games."
PSA Chief Executive Alex Gough said:
"Our athletes have worked tirelessly to earn this recognition and we are grateful for the opportunity to see them compete for glory at the LA28 Olympic Games. This inclusion marks a significant milestone in squash's journey, and I look forward to watching our players inspire the world with their incredible skill and athleticism on the biggest stage of all."
United States No.1 Amanda Sobhy said:
"It's everything that you can dream of as an athlete to be able to compete in the Olympic Games. To be able to compete for an Olympic gold medal, and just say that you were an Olympian, is something that no one can ever take away from you.
"To have the chance to compete at LA28 and compete in front of friends and family with a home crowd, it would just be so meaningful."
U.S. Open Champion Paul Coll said :
"It would be a dream come true to go to the Olympic Games. I'd be 36 by that point so definitely getting on a bit but I'd love to give it a go if the body's still up to it.
"My Commonwealth Games experiences have been unreal, it's such a cool environment and the Olympics is a whole level up from that so it'd be amazing to get to experience that.
"I love this sport, it's a great sport to play, it's great for fitness, it's great for community and it's a lot of fun, so I'm really pleased to see it getting a place at the Olympic Games."
Additional details on the LA28 Olympic Games sporting schedule will be announced by the LA28 Organising Committee.
The squash community, both in the United States and around the world, embraces the spirit of unity, sportsmanship, and excellence that the Olympics represents and eagerly anticipates the LA28 Olympic Games.